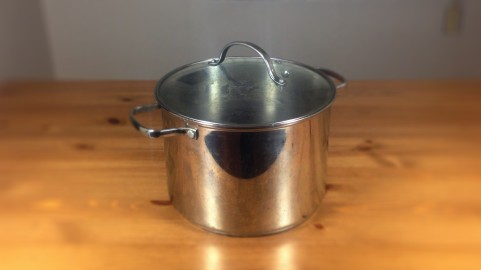 In France, stock is known as "fond du cuisine," (or the foundation of all cuisine, for those of you who ne parlez pas français).
Stock is used to create the many sauces that epitomize French cuisine, but it's uses go far beyond frilly frou-frou meals that take all day prepare.
And while you can use a Dutch oven or slow cooker to make stock, a stockpot is a useful tool to have on hand for any intermediate cook.
If you could only have five pieces of cookware in your kitchen, a stockpot would certainly be one of them.
Why Get a Stockpot?
As I mentioned, stock is an incredibly versatile "ingredient" to have on hand (which, incidentally, you make from the scraps and bits that you'd usually throw away).
Stock is an excellent addition to soups, stews, braises, or anything else that you'd usually use water to cook with.
(You can also use stock to make a drink. The bull shot is a relative of the Bloody Mary, and is about the manliest thing you can drink in the world.)
In addition to making stocks, stockpots are also great for boiling large amounts of pasta or green vegetables. In a pinch, it can stand in for your Dutch oven if it's already in use.
They have a large capacity, though they don't cook quite as evenly as a Dutch oven, which should be fine as long as you're not using it over high heat or cooking for long periods without stirring.
Stockpot Buyer's Guide
The most important thing to remember when buying a stock pot is not spending too much.
This piece of cookware isn't going to go the rigorous and precise cooking that you'll otherwise use a skillet or wok for, so there's no real reason to break the bank here.
Here's a few things to keep in mind:
Get a stainless steel pot. Ideally with an aluminum core. This is the same material as I suggest for a saucepan. No weird nonstick materials to worry about, and it's sturdy.
Go with a 12 quart pot. To a certain extent, bigger is better. You can make more stock at once, and you can add your veggies to boiling water without dropping the temperature too much. But you don't want it too big that you can't move it once it's full. 12 quarts is about right.
I'm rocking an old Chefmate made of stainless steel that I got from Target, but this Cuisinart model is probably the best value on the market these days.
Although stock is one of the best secret weapons that a home cook can have, it is by no means the only thing you can do with a stock pot.
This piece of cookware is far more useful that its name suggests, and I would highly recommend picking one up if you are an intermediate home cook.
{ Comments on this entry are closed }